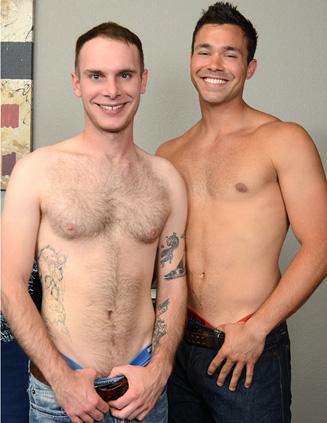 Sergio Valen delivers an hot fuck with Dallas Carson in this scene. Sergio Valen is a big muscled
guy, and that turns Dallas on. From the moment these two start kissing, Dallas is turned on more
than ever. The clothes come flying off as Dallas jumps on Sergios cock. Sergio loves a good
blowjob, and Dallas certainly delivers. Dallas works his cock with his tongue and throat, making
Sergio even more hot and bothered. Sergio goes for the big uncut cock that Dallas has next. Sergio
seems to enjoy sucking dick quite a bit, which makes Dallas one lucky guy. Dallas wants something
more though, and he wants it hard and deep. Sergio kisses Dallas and rolls him over - face down
ass up. Sergio plows into Dallas with vigor. It shows that Sergio is a great fuck, because the way he
moves drives Dallas crazy with pleasure. Pounding Dallas from behind, Sergio gets in a groove and
sticks with it. Dallas can take a cock hard, and Sergio certainly delivers! Mixed in with a little dirty
talk, Sergio and Dallas go at it until they both work up a sweat. Sergio turns Dallas over and
continues with the pounding. Dallas takes Sergio balls deep with each stroke, and Sergio loves the
feeling of his tight asshole. Sergio ups his pace until he cannot take anymore, and pulls out to blow a
nice load of creamy jizz all over Dallas. Hot Fuck!