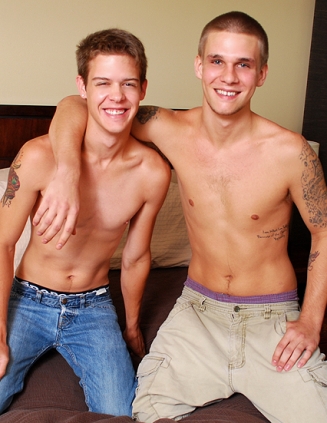 Trent Ferris and Alex Jordan have some fun with each other in the bed in this scene. Trent and Alex
both show off their oral skills, and the results are pretty spectacular. Alex and Trent make out and
get out of their clothes before Alex goes down onto his knees to blow Trent, whose rock hard cock is
dying for some attention. Alex sure does give all the attention in the world to Trent, wrapping his
lips around Trents cock and making sure that Trent is happy. Trent trades places soon with Alex,
and now Trent is on his knees as Alex sits back and enjoys a hot bit of tongue and throat action.
Trent stares up at Alex as he licks up and down his cock, all the while jerking himself off and keeping
Alex excited. Trent pleasures every inch of Alexs dick, but Alex wants more cock himself - soon
these two horny guys are on the bed and Alex is going down again on Trent. Kissing intermittently
and passionately, both Alex and Trent get off and end this cock-sucking scene with even more
making out. Hot sucking!