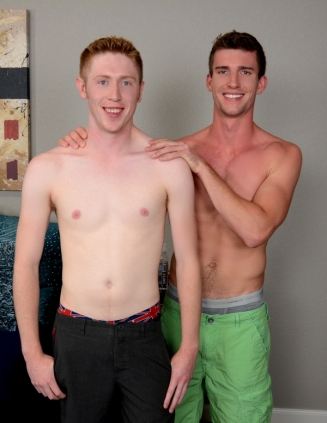 Bryan, a stud from the Northeast, enjoys to travel…and his next stop is Brad's tight ass! Bryan and
Brad get things started with a sizzling make out session, but Bryan can't wait to get Brad undressed
as he slides his hands all over him. They take each other's shirts off as they continue to kiss. The
two explore each other's fit bodies as the pants come off! It's no secret that these two are eager to
get started as they grab at one another. Once they're finally undressed they begin rubbing each
other's cocks, getting them nice and hard as they kiss some more. We get an up close and personal
view of their delicious cocks as they continue to jerk each other off, enjoying the make out session
as well. Bryan goes down on Brad, kissing his way down to his waiting cock. He takes Brad's uncut
dick in his mouth and works it like a pro. Brad's loving the attention as Bryan pulls his cock in and
out of his warm mouth, all while playing with himself. Bryan sucks him off a little more before
getting his turn…Brad gets on his knees and takes Bryan's huge dick in his mouth, getting it good
and wet as he deepthroats it over and over. Brad takes time to admire Bryan's cock, sliding his
tongue over it one last time before he gets on the bed, ready to take Bryan's big dick. Bryan gets
comfortable on top as he shoves his dick in deeper, earning moans of pleasure from Brad. Bryan
continues to pound Brad as they kiss. Brad gets on his knees as Bryan slides his cock into his tight
ass again, nice and deep. Bryan fucks him hard and fast, just how Brad likes it! Then Brad gets on
his back, spreading his tight ass for Bryan's dick. Brad plays with himself as Bryan pumps him full of
his big cock. Brad and Bryan are sure enjoying themselves as both get closer and closer to orgasm.
Bryan pulls out and works his cock, shooting his hot load all over Brad's chest. The two kiss again,
and now it's Brad's turn. He jerks himself off, adding his own hot jiz to Bryan's load. The two finish
with a kiss to end this very delicious encounter!