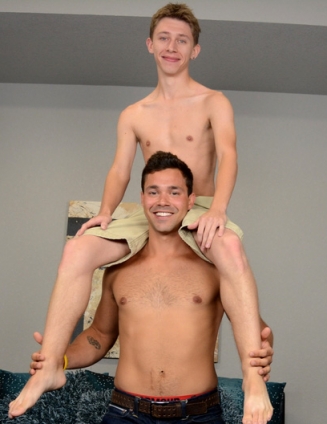 Sergio Valen takes charge in this steamy encounter as he begins by making out with Kellen Lane.
The clothes come off soon after and they're both eager to move things along as Kellen begins
working Sergio's huge cock. Sergio teases Kellen a bit before the boxers come off all the way and
show really begins! Sergio goes down on Kellen first, running his warm mouth and hand up and
down Kellen's impressive dick. Sergio plays with himself as he continues sucking Kellen off, eliciting
moans of pleasure from his partner. Kellen can barely contain himself as Sergio works his magic,
getting Kellen's cock nice and wet. The two switch positions and now it's Sergio's turn! Kellen takes
Sergio's big dick in his mouth, excited to finally get a taste of him. He works Sergio's cock expertly
and Sergio can't seem to get enough of Kellen's delicious mouth on his hard dick. Sergio has
something else in mind, though, as he pulls Kellen off his cock and sits him on the bed. Kellen
knows what's coming as Sergio lubes up his cock and slides it into Kellen's tight little ass. Sergio
pumps Kellen full of his hard dick as the two switch positions, Sergio showing his dominant side as
he places his hand on Kellen's throat. These two can't seem to get enough of each other as they
climb farther onto the bed, Sergio ramming his dick into Kellen as Kellen plays with himself. The
two do some kinky kissing as Sergio continues to fuck Kellen, who gets himself off with Sergio's cock
still buried deep in his ass, and now it's Sergio's turn. He pulls out and works his rock hard dick with
his hand, shooting his load on top of Kellen as the two finish with a kiss. This is one hot fuck!