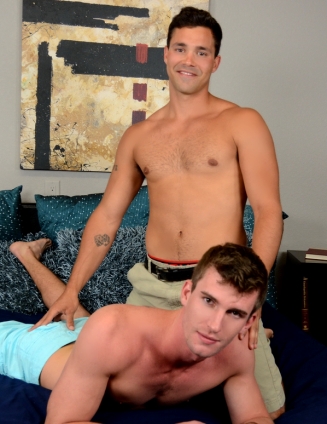 Sergio Valen and Bryan Cavallo begin this steamy scene by teasing each other with kisses and
exploring each other's bodies, running their hands all over each other before the underwear come
off! There's no mistaking it here, these two are ready for action as they both get on the bed, Sergio
going down on Bryan first. He takes Bryan's huge uncut cock into his mouth and gets it nice and
wet, massaging Bryan's balls while he shoves his cock in his mouth. Sergio's up next as the two
switch positions, Bryan getting a mouthful of Sergio's hard cock as he moans in pleasure. But
there's even more pleasure coming their way as these two lube up and Sergio sticks his throbbing
dick into Bryan's waiting ass. Sergio pounds him hard from behind, shoving his cock deep into
Bryan's tight ass and Bryan's loving every minute of it! The two change positions, Bryan on the bed
and Sergio standing over him as he fucks him. Sergio shows his dominant side as he holds Bryan's
hands behind his back while he pounds him and Bryan certainly doesn't object! They keep things
hot, changing positions again as Bryan gets on his back and spreads his legs wide open for Sergio's
big dick. These two fuck a little longer before they can't take it anymore, Bryan gets himself off
with Sergio's big cock still deep inside his ass, then Sergio shoots his load all over Bryan's dick and
balls. This is definitely one hot fuck!