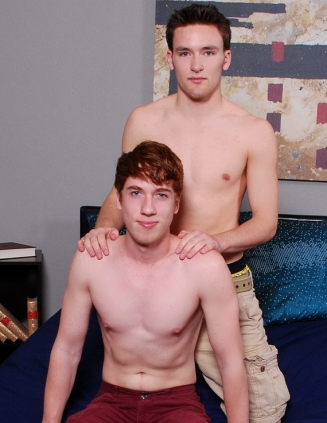 This sizzling scene begins with a hot make out session and these two can't wait to get started. They
grab each other's junk as they exchange some deep kisses, getting one another worked up and rock
hard. Finally their boxers come off and we get a peek at their big cocks, ready for action after their
delicious make out session. Ryan goes down on Ian first, eager to feel that big cock down this
throat as Ian runs his hand through Ryan's hair. Ryan takes his time with Ian, kissing his way up
and down Ian's long shaft and savoring his delectable taste. Ian can't seem to get enough of Ryan's
wet mouth on his dick as he closes his eyes in ecstasy. But Ryan's in for a treat as well as the two
switch positions and Ian gets on his knees, taking Ryan's big cock in his mouth. He deepthroats
Ryan's dick and works it with his hand, making sure not to neglect any part of Ryan as he takes his
balls in his mouth as well. These two are definitely enjoying themselves, but the fun has just
started as Ian lubes up his giant cock and slides it into Ryan's tight little ass. Ian goes slowly at
first, giving Ryan time to adjust to his length and girth before picking up the pace. Ryan is enjoying
his position as bottom while Ian continues to pump him full of his big dick. These two keep things
hot as Ian leans forward and kisses Ryan while he continues to fuck him before switching positions,
with Ian on bottom now. Ryan fucks Ian doggy style, pounding him faster as Ian plays with his own
cock. Ian gets on his back and Ryan doesn't hesitate to stick his dick inside Ian's tight ass, fucking
him nice and deep as Ian works his own cock with his hand. They both kick it up a notch and Ian
gets himself off, shooting his load while Ryan continues to fuck him. Ryan pulls out and cums all
over Ian…these two make one hot pair!