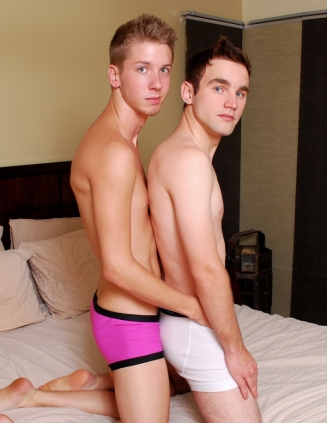 Joey and Andrew are hot for each other and they aren't shy about showing it! These two share
some kisses as they undress slowly, and once the underwear come off there's no hesitation on
Joey's part to get Andrew's dick in his mouth. Joey works Andrew's cock with his wet mouth,
shoving it deep into his throat as he rubs his own dick slowly. But Andrew wants a taste of Joey's
huge member and the two switch positions as Andrew goes down on him. Joey strokes Andrew's
dick as Andrew continues to pleasure him with his mouth, deepthroating his cock and licking it up
and down. But these two are just as eager to fuck as they were to suck each other off, and they
both lube up before Joey sticks his cock in Andrew's tight ass, pounding him from behind as Andrew
moans in pleasure. They switch positions, Andrew on his back and Joey above him, fucking him nice
and deep as he spreads his legs. Andrew rubs his own cock as Joey pumps him full of his dick and
puts a hand on Andrew's throat, showing off his power as he fucks him. Andrew works his own cock
faster and shoots his load and it doesn't take Joey much time to join him as he pulls out and busts a
nut on top of Andrew. These two are hot!