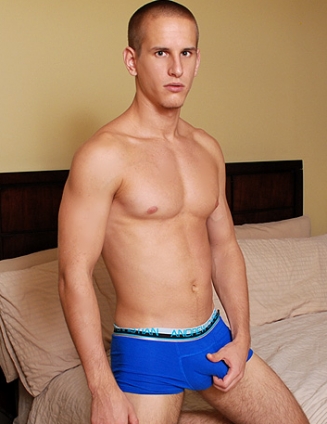 A European treat, Jacques LaVere comes to us from Paris, France and enjoys the beach, swimming,
and partying. He has fantasies about jerking off in public…but for now he's contenting himself with
giving us our own private show! Jacques takes his clothes off and we finally get a look at that
perfectly fit body and delicious uncut dick. He climbs onto the bed and starts by rubbing his cock
and playing with his balls. Jacques wasn't lying when he said he's a very sexual guy and he's
definitely not shy about putting on a good show for us! He continues to work his cock and as he gets
nice and hard we see just how big he really is. He watches his hands move over his dick before
closing his eyes and really getting into it, sliding that big cock through his hands. He gets on his
knees and works his cock some more, focusing on the sensitive tip as he rubs his balls. He slaps his
dick against his hand as he works himself, moaning as he gets into it then lying on his stomach and
working his cock from behind. He plays with his balls and jerks that huge cock as he treats us to a
nice view of his ass. He keeps things interesting as he switches positions again, laying on his back
and jerking his huge member with both hands. He picks up the pace a bit, getting closer and closer
to cumming as he rubs his rock hard cock until he busts a nut and shoots his hot load all over
himself. This is one steamy solo!