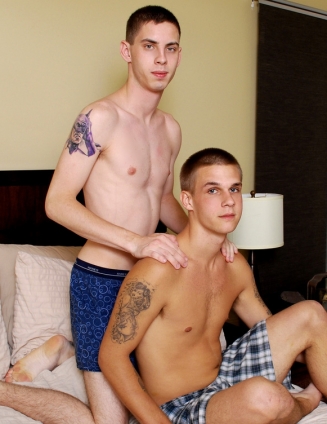 Trent Ferris takes on Same Truitt and his huge cock in this video. Suffice to say that Trent had to
slowly work his jaws open enough to take Sams dick. Sam and Trent are both southern boys, and
their passionate kissing belies their horniness - The clothing starts coming off very fast, and soon
Sam, who seems to have a bit of a crush on Trent, is sucking Trent off. Sam seems to have gotten a
lot better at giving blowjobs, and he really makes Trent feel great. As Sam worships Trents pole,
Trent leans back enjoying the attention very much. Trent has a thick dick himself, and Sam has
trouble getting it all the way down his throat. Trent, however, will have a much bigger cock to deal
with. Sam hops up on his knees and Trent bends over to begin conditioning his mouth for a monster.
Trent does a great job, and from the look on Sams face he probably has not had better head in his
life! Trent is certainly up for the challenge. As Sam reclines, Trent lies on his side and tries to come
in from another angle - his instincts prove correct, and Trent almost gets Sams entire schlong down
his throat. As Sam gets closer to orgasm, Trent gets more excited. Trent begins to jerk himself off
as he licks and slurps his way around Sams cock and balls. Soon Trent is cumming buckets, which
gets Sam excited to the point of no return. Sam grabs his dick, and as he does, Trent opens wide,
waiting for a hot load. Sam provides, and soon Trents mouth and chin are dripping with a warm,
creamy load. Hot stuff!