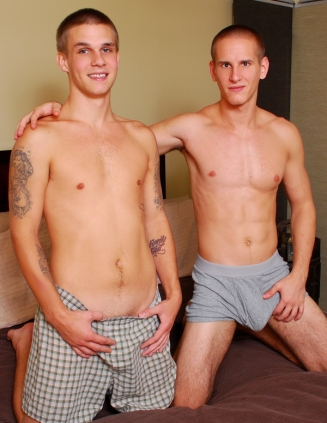 Jacques and Trent are eager to get at each other and after a few short kisses the clothes come off!
These two studs exchange some more kisses as they rub each other's packages, working their cocks
through their underwear before they can't take it anymore and the boxers come off as well.
Jacques goes down on Trent, filling his warm mouth with Trent's huge dick as Trent rubs Jacques's
cock as well. Jacques takes his time with Trent, massaging his sensitive tip and playing with his
balls, getting his cock nice and wet as he runs his hand along Trent's shaft. Then the two switch
positions and it's Jacques's turn! Trent uses his hand and his mouth to pleasure Jacques, shoving his
dick deep to the back of his throat as he rubs his own cock. The two exchange some sensual kisses
before Trent kneels on the bed and Jacques fucks him bareback, sliding his cock in and out of Trent's
tight ass. Trent plays with his dick while Jacques pounds him hard from behind. They keep it fresh,
switching positions with Trent on his back, his legs spread, and Jacques standing over him fucking
him nice and deep. Trent loves his position as bottom and jerks his cock, cumming all over while
Jacques fucks his ass. Jacques pulls out, working his own cock and shooting his load all over Trent!