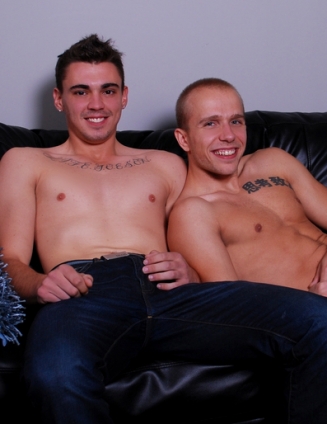 Asher and Rob are quite the pair and they begin this sexy scene by making out, but it doesn't take
long before they're undressing each other! They strip down to their boxers and continue kissing,
but
as soon as Asher gets his hands on Rob's big dick, things start to heat up! Rob sheds his last piece
of clothing and Asher takes that opportunity to take Rob's cock in his mouth, pulling it in and out of
his warm, wet mouth. Asher deepthroats Rob's hard dick, shoving that cock down his throat as
Rob
moans in pleasure, his hand resting on Asher's waiting dick. But he doesn't have to wait for long
before Rob goes down on him, deepthroating Asher's own throbbing dick. He gives Asher's dick
one
final lick before getting in position to take Asher's cock. These two lube up and the fun begins as
Asher sticks his thick cock into Rob's tight ass. Rob is definitely loving that huge cock in his ass as
he moans over and over again as Asher fucks him hard. Asher and Rob exchange a kiss before
Asher lays back on the couch and Rob straddles him, riding Asher's hard dick, getting it nice and
deep inside. The fun isn't over yet, though, as these two experiment with another position, Rob on
his back and Asher above him, pumping him full of his big cock. Rob comes first, busting a nut
while
Asher continues to fuck him. Then Asher pulls out and works his dick with his hand, getting himself
off all over Rob and the two end this steamy scene with a kiss.