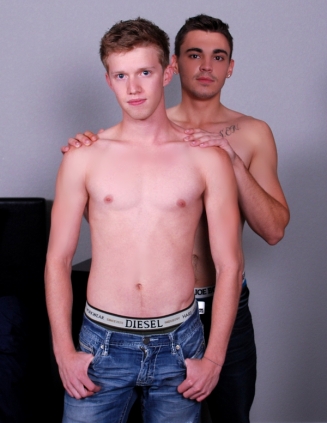 Asher and Riler don't waste any time! These two are hungry for each other and it's not long before
the clothes are off, and as they continue to kiss, Asher slides Riler's boxers off and gets on his
knees, ready to give some head! He takes Riler's cock in his mouth, working it like a pro as he
pumps his own dick, making sure he's nice and hard for Riler. It's Asher's turn next as Riler sits him
on the bed and takes his throbbing cock into his wet mouth, running his hands all over Asher's toned
body as he sucks his hard member. Asher's loving every minute of it, but he knows that what's
coming is something even hotter! The two exchange some kisses before Asher lubes up his cock
and Riler lays on the bed, ready to take Asher's dick. Asher certainly doesn't hesitate as he shoves
his cock into Riler's tight asshole, pounding him hard and fast as he stands above him. Riler moans
in pleasure as Asher continues to fuck him. These two keep it fresh and switch positions, Asher
laying on the bed with Riler on top, riding him hard as Asher rubs Riler's thick cock. Next they fuck
side by side, Asher pounding Riler as Riler rubs his own dick, getting off to the feeling of Asher's
cock buried deep inside him, shooting his load all over the bed. Asher pulls out and works his own
cock, jerking it until he busts a nut, cumming all over Riler's ass!