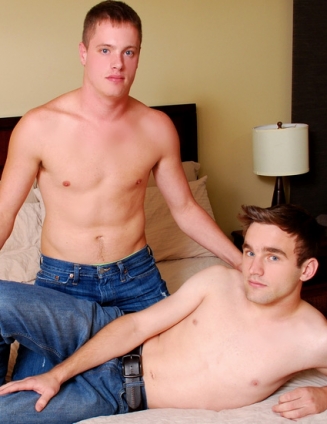 Aiden and Andrew are eager to get at each other as their make out session turns hot very quick,
with each stud stripping down to his boxers as they continue to kiss! Aiden gets impatient as he
tears Andrew's boxers off and shoves his uncut dick into his mouth. He works Andrew's cock with
his mouth until it's standing at attention, and he continues pleasuring Andrew, dragging his wet
tongue along Andrew's hard shaft. Andrew is excited to return the favor as he pulls Aiden's boxers
off and goes down on him, shoving Aiden's cock into his mouth as Aiden works Andrew's dick with
his hand. These two are clearly both enjoying each other as they continue to get one another off,
Andrew working Aiden's cock enthusiastically. Things continue to heat up as Aiden gets on his back
and Andrew prepares for Aiden's cock, lubing up his ass before Aiden slides his hard dick inside.
Aiden fucks Andrew's tight ass as the two exchange a kiss before changing positions, Andrew laying
on the bed and Aiden fucking him from behind. Aiden is able to get his dick nice and deep inside
Andrew's ass, but that doesn't stop the these two from finding a new position. Andrew turns onto
his back and Aiden pounds him hard as Andrew works his cock, shooting his load onto his abs as
Aiden pulls out, jerking his own cock hard and fast and busting a nut on Andrew's stomach.