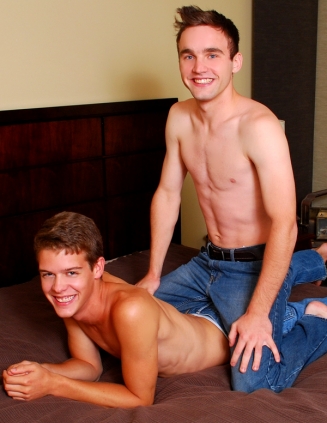 Andrew and Alex begin this sexy encounter with some very steamy kisses, Andrew laying on top of
Alex, grinding against him as they explore each other's body! Andrew doesn't want to wait any
longer though, he's craving a taste of Alex's big dick, and he slides down and takes Alex's cock in his
mouth. He works that dick expertly, deepthroating it and pulling it in and out of his hot mouth
before climbing on top of Alex, straddling him as Alex shoves Andrew's cock in his mouth. Andrew
reaches behind him and strokes Alex's member as Alex gives him head, moaning in pleasure as Alex
slides his mouth up and down his shaft. Andrew's ready for a different kind of pleasure, and he
lubes up Alex's ass and his own cock before sliding it inside Alex's tight entrance. Alex holds his ass
open, letting Andrew get in good and deep as the two moan, exchanging some kisses before trying
a new position. Alex gets on his back and spreads his legs and Andrew can't wait to shove his dick
in again, pounding Alex deep and steady as Alex rubs his own cock. He jerks his dick fast, getting
himself off with Andrew's cock still deep inside is tight ass, busting a nut all over his stomach!
Andrew pulls out and works his cock with his hand, shooting his hot load onto Alex's waiting ass!