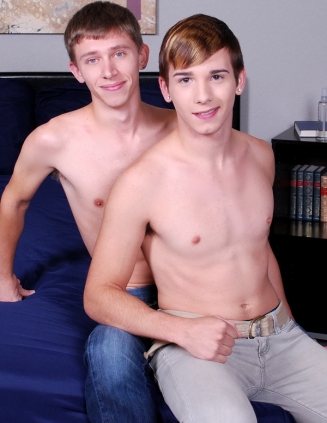 Kellan and Caleb start off this steamy session with some hot kisses, and they can barely keep their
hands off each other long enough to get undressed! But once the clothes come off, Kellan's wet
mouth is on Caleb's hard dick! He works Caleb's cock like a pro, using both his hand and mouth as
he strokes his shaft and takes Caleb's nuts in his mouth. Caleb is eager to return the pleasure, and
he goes down on Kellan, deepthroating Kellan's huge dick and licking his balls. But these two are
just getting warmed up! Caleb's in for a treat as he kneels on the bed and Kellan spreads his ass
open, giving him a rim job as he strokes his rock hard cock. After licking his ass and getting it good
and wet, Kellan lubes up his dick and sticks it in Caleb's waiting ass! He pounds him hard as Caleb
moans, stroking his own cock as Kellan fucks him. They switch positions as Caleb lays on his back,
Kellan kneeling above him as he shoves his dick back inside. He pounds him hard and fast as Caleb
works his own dick. These two get on their side next and Kellan fucks him like that, holding up
Caleb's leg and sucking on his hard nipple as he pulls his cock in and out. It's not long before the
pleasure builds up and Caleb releases his cum, shooting it all over his stomach as Kellan fucks him.
It's Kellan's turn next and he pulls out of Caleb's tight ass and works his cock, jerking it until he
busts a nut on top of Caleb!