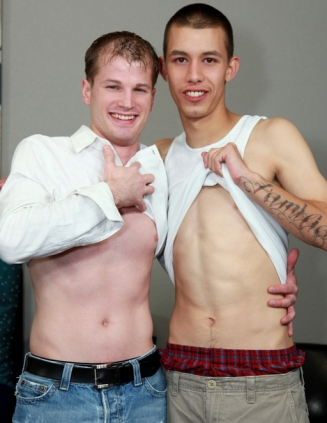 Tory's first in this delicious duo as Marco gets on his knees and sucks Tory's cock. That's right, these
two skip right past the kisses and get to the fun stuff! As Marco slides Tory's cock in and out of his
mouth, it gets harder and harder, growing as Marco continues to suck on it. Next it's Marco's turn
as Tory climbs off the bed and kneels on the floor, taking Marco's Mexican cock into his hot mouth
and shoving it deep into his throat. Marco watches him work his cock before standing up and
moving things to the next level. Tory lubes up and gets ready for Marco's dick as he gets onto the
bed, laying on his side and spreading his legs, guiding Marco's throbbing member inside him. Marco
goes slow at first before picking up the pace, pumping Tory full of his huge cock. They switch it up,
Tory climbing on top and riding Marco's cock, bouncing up and down as he moans. But Marco wants
to go a little deeper and Tory doesn't object, laying on his back and letting Marco shove his cock
inside again. Marco fucks him hard and Tory works his own dick, jerking it until he busts a nut all
over. Marco wants his release as well and pulls out of Tory's tight ass, working his big cock with his
hand until he shoots his load all the way across the bed!