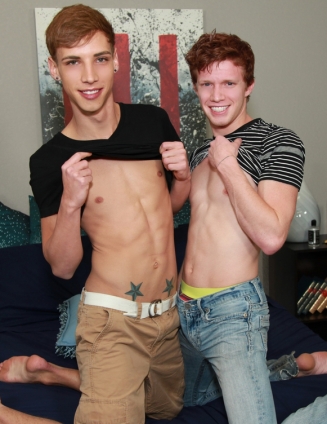 Riler and Jordan make an exciting and enticing pair and as they begin to kiss it just gets more
exciting from there! Once the clothes are off, Riler works his way down to Jordan's cock, taking it in
his mouth and sucking until it's good and hard. But Jordan is itching to get his mouth around Riler's
massive uncut dick and he pushes him onto the bed so he can get a taste. He works Riler's cock
with his mouth, shoving the huge length down his throat before adjusting positions so that Jordan
can get some action too. This hot pair 69s for a bit before Jordan just can't wait and slips a condom
on, lubing up before he sticks his cock deep into Riler's tight little ass. Jordan kneels over Riler,
fucking him hard and pumping him full of his hard cock as Riler takes that dick like a pro. Jordan
shifts to lay on his back and Riler follows his lead, positioning himself on top and riding Jordan's
throbbing dick. Jordan sits back and enjoys the feeling of Riler bouncing up and down, burying his
cock deep inside. As Riler climbs off, Jordan flips him onto his back and stands above him next to
the bed, sliding his dick back into his tight hole and pounding him as Riler jerks his own cock with his
hand. It's not much longer before Jordan is pulling out, ready to cum, and they both shoot their hot
load onto Riler!