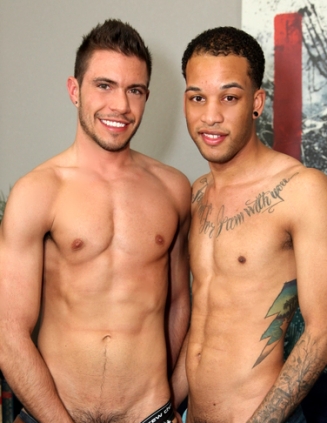 Sam and Damon are a sensuous pair as they begin with some slow, passionate kisses as they rub
each other's cock. Sam kisses Damon's neck a bit before Damon goes down on him, sliding his lips
around Sam's hard dick. Damon shoves that cock deep in his throat as he plays with himself,
working his cock with his hand as he pleasures Sam. But Sam makes sure that Damon's needs are
met, too, as he gets on his knees and sucks Damon's dick, getting that cock sloppy wet as he runs
his tongue all over it. Damon's eager to turn up the heat, though, and he lubes up as soon as Sam's
mouth is off of him! Sam climbs on top of Damon's lap and slides that huge cock slowly into his tight
little ass, giving himself a moment to adjust to Damon's size before bouncing up and down. As Sam
rides Damon's cock, he moans in pleasure, his own dick bouncing as he gets pounded. Sam climbs
off and lays on all fours on the bed, Damon standing behind him as he shoves his dick in and fucks
him hard. Damon gets his throbbing member nice and deep inside Sam's ass and Sam can't seem
to get enough! He flips over onto his back and Damon doesn't hesitate to slide his cock inside again,
pumping him full of his rock hard dick as Sam shoots a huge load all over his toned abs! Damon
wants his turn, too, and lies down next to Sam, kissing and running their hands over each other until
Damon busts a nut!