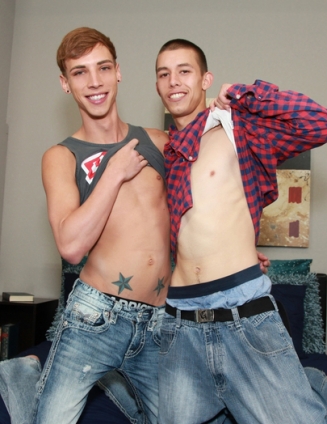 Jordan and Marco start things off with some kisses, fondling each other's dicks as they make out
before Jordan takes a seat and gets a taste of Marco's Mexican cock! He sucks on his dick for
awhile, licking his balls and running his tongue all along Marco's member before bending him over
the bed and giving him a rim job, flicking his tongue along Marco's tight ass as he spreads it open
and lubes it up, sliding his finger inside to feel just how tight it really is! But before he can feel that
ass around his cock, Marco goes down on him, pulling his dick in and out of his mouth, getting it
dripping wet as he pleasures him. Once Jordan is nice and hard he lubes up and Marco climbs on top
of him, sitting on that big cock and bouncing up and down as Jordan works his dick from behind.
Marco rides him hard, getting Jordan's cock deep inside his ass as Jordan moans in pleasure. They
move to the bed next, Marco on top once again, riding Jordan's throbbing dick as they make out,
kissing each other's neck as Jordan pumps him full of his cock. Marco climbs off of Jordan and lays
down on his back at the edge of the bed as Jordan stands above him, shoving his hard cock inside of
Marco and fucking him hard as Marco works his own dick with his hands. Marco jerks himself until
he cums all over and Jordan pulls out and shoots his hot load onto Marco!