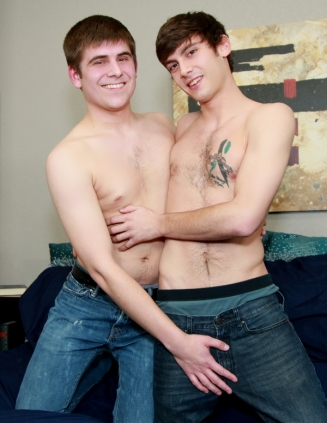 Trent and Zaden kick things off right with some fun conversation and lots of laughs…but when it
comes to getting off, these two get pretty serious! They begin with some intense kisses but when
Zaden wants more he's not shy to show it! He pushes Trent onto the bed and claims his cock with
his mouth, pulling it in and out, flicking the tip with his tongue as Trent moans. Trent wants to get a
taste of Zaden's dick, too, and eagerly sits up to please him. He admires Zaden's massive cock
before getting a mouthful of it, shoving it deep into the back of his throat as he works it. He pleases
him a bit longer before they both get impatient for what's coming next! Zaden and Trent get lubed
up as Trent gets in position to take Zaden's huge dick. Zaden slides his dick in as he stands behind
Trent, going slow at first so that Trent can get used to his massive size before fucking him harder.
They both lie down on the bed next, exchanging some kisses as Zaden continues to pound Trent.
They both seem to be enjoying this position as they kiss some more, Zaden filling Trent's tight ass.
They mix it up a bit, changing positions again with Trent on his back and Zaden standing above him
as he fucks him hard. Zaden pulls out and comes all over Trent and Trent follows his lead, busting a
nut all over!