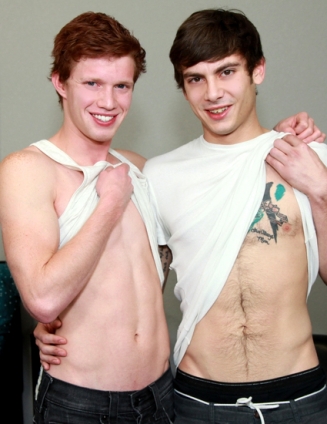 Riler and Zaden start with some ass-grabbing, Zaden getting a good feel of the ass he's about to
pound, before he gets down on his knees to pleasure Riler. He takes Riler's thick cock in his mouth,
closing his eyes as he savors the taste and shoves it deep into the back of his throat. He tongues
Riler's tip, massaging his balls, before climbing onto the bed and letting Riler have his turn. Riler
lays next to Zaden, pulling Zaden's massive cock in and out of his warm mouth, licking his balls and
shaft and placing some very sensual kisses all over his abdomen before sucking his cock some
more! These two are both ready to take things up a notch and Zaden slides a condom on, lubing up
as Riler climbs on top of him and sits on Zaden's throbbing dick. Zaden pumps in and out, shoving
his cock deep into Riler's tight ass before Riler turns around and takes Zaden's cock from a different
angle. Zaden sucks on Riler's nipple as he fucks him hard and Riler throws his head back in
pleasure. Riler climbs off of Zaden and lays down on the bed as Zaden gets in position, standing
above him next to the bed and sliding his cock inside again. As Riler gets pounded by Zaden, he
jerks his own cock hard and fast before Zaden pulls out and shoots his load all over Riler. It's not
long before Riler's hot cum joins Zaden's as he busts a nut on himself!