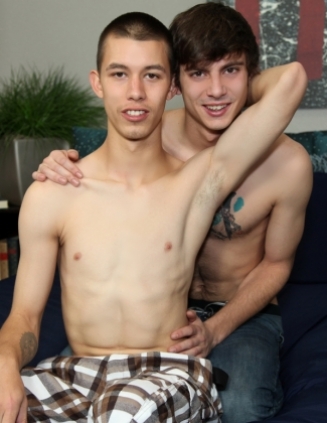 Zaden begins by showing off a bit for Marco, pulling out his cock and working it with his hand until it
reaches a very impressive size! Once Marco's gotten an eyeful of that delicious cock, they both
undress and Zaden goes down on Marco, taking his dick in his mouth and massaging it slowly with
his tongue and lips. Marco loves what Zaden's doing with him and gets off on watching Zaden suck
his dick and massage his balls. Zaden plays with his own cock while pleasing Marco, but Marco
takes over soon and gets on his knees and claims Zaden's dick with his warm mouth. He pumps
Zaden's cock with his hand and then shoves it deep into his throat, sliding his huge cock all the way
down his throat over and over as Zaden watches in satisfaction. Once Marco has gotten Zaden
super horny and rock hard, they climb onto the bed and Zaden puts that giant dick into Marco's tight
Mexican ass. He fucks him hard, doggy style, as Marco jerks his own cock and winces in pleasure
and pain at the feeling of Zaden's massive cock inside of him. These two lay side by side next, and
Zaden slides his member back inside Marco's ass as he kisses his chest. Again, Marco plays with his
own dick as Zaden pounds him from behind, holding his legs open so he can get deep inside of
Marco. When they're both close to coming Zaden stands up next to the bed and pulls Marco toward
him, spreading that ass and shoving his cock inside. He keeps a good rhythm, pumping him full of
his huge dick wish short, slow movements as Marco enjoys every minute of it. Marco jerks his own
dick, busting a nut all over himself with Zaden still buried deep inside his ass. But once Zaden sees
Marco get off he can't wait any longer and pulls out, working his cock with his hand until he shoots
his hot load all over!