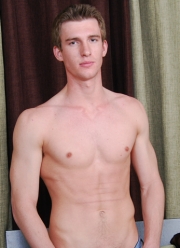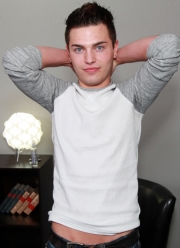 Josh and Bryan are hard, horny and ready to fuck! Josh says he likes tall guys…well we've hooked him up with just the right dude since Bryan stands at an impressive 6'3'', and these two seemed so well-matched in the bedroom! Josh doesn't waste any time getting naked between kisses, and once Bryan sets his sights on Josh's cock he gets that meat in his mouth and works it like a pro.
Josh gets his fill of sausage, too, as he goes down on Bryan and massages his huge, thick shaft with his mouth and hand, shoving that wang deep down his throat! Next thing you know, Bryan's got Josh on his hands and knees and he's pounding the fuck out of him, burying his giant cock in Josh's tight little ass while Josh moans and begs for more.
He flips him on his side and fucks him that way, sliding his cock in and out faster and harder, then gets Josh on his back and slams his dick into him like that. These two studs are lost in their own hot pleasure, Bryan's balls slap against Josh's ass while Josh jerks his own dick until they both shoot a huge, hot load all over.